FIND IT FUND IT FLORIDA
Boca Raton High family, friends and fans,

Thank you so much for taking the time to view our fundraiser page. Your support will help us offer a higher quality experience for all of our players. The best way to fund raise is to spread the word! If you could please spread the word about our fundraiser by sharing this page with your friends via Social Media we would greatly appreciate it.

The Goal of this fundraiser is to raise the money needed for this season tournaments, team suits, equipment and post season banquet and activities.

Go Bobcats Water Polo!

Coach Jorge Montero and Courtny Cook

Boca Raton High Water Polo Fundraiser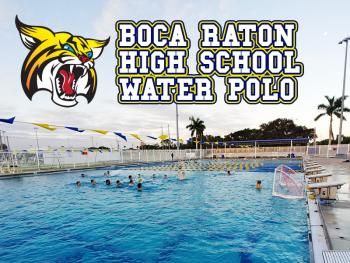 School:

Boca Raton High

Subject:

Other

Teacher:

Jorge Montero

Courtny Cook

Students Impacted:

46

Grade:

9-12

Date:

February 10, 2019
24% Funded
Only $3,400.00 Needed
Goal
Boca Raton High family, friends and fans,

Thank you so much for taking the time to view our fundraiser page. Your support will help us offer a higher quality experience for all of our players. The best way to fund raise is to spread the word! If you could please spread the word about our fundraiser by sharing this page with your friends via Social Media we would greatly appreciate it.

The Goal of this fundraiser is to raise the money needed for this season tournaments, team suits, equipment and post season banquet and activities.

Go Bobcats Water Polo!

Coach Jorge Montero and Courtny Cook

What will be done with my students
Donations will be used towards equipment, uniforms, travel expenses and tournament entry fees. Donations are vital for the success of this program.
Benefits to my students
Benefits to students will boost morale and team spirit.
Budget Narrative
The donation you make to our schools water polo team will be used toward tournament fees, practice facilities, equipment, and post-season dues. Thank you so much!
Items
| # | Item | Cost |
| --- | --- | --- |
| 1 | Tournaments | $2,000.00 |
| 2 | Equipment | $1,000.00 |
| 3 | Banquet | $1,500.00 |
| | Total: | $4,500.00 |
24% Funded
Only $3,400.00 Needed