FIND IT FUND IT FLORIDA
To work with a professional muralist and have students paint a mural in the school hallway
Creating an International Baccalaureate Mural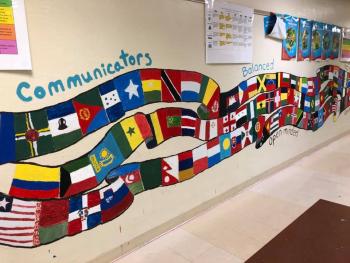 School:

Atlantic High School

Subject:

Language Arts

Teacher:

Marissa Kingham

Students Impacted:

150

Grade:

K-12

Date:

August 14, 2019
13% Funded
Only $700.00 Needed
Goal
To work with a professional muralist and have students paint a mural in the school hallway
What will be done with my students
Students will participate in the creation of a mural that represents the International Baccalaureate Programme. Students will decide what they would like the mural to look like and then work with a muralist to collaborate on painting it.
Benefits to my students
Collaboration, Creativity, Pride, Ownership, Posterity
Budget Narrative
The prices are based on the mural that was created last year.
Items
| # | Item | Cost |
| --- | --- | --- |
| 1 | Muralist Fee | $600.00 |
| 2 | Paints | $100.00 |
| 3 | Brushes | $100.00 |
| | Total: | $800.00 |
13% Funded
Only $700.00 Needed