FIND IT FUND IT FLORIDA
to engage students in the design and engineering process and to develop creativity while creating hands on materials for learning
3D Printer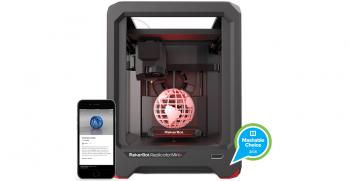 School:

Pine Jog Elementary

Subject:

Stem

Teacher:

Susan Hahn

Students Impacted:

950

Grade:

K-5

Date:

January 25, 2018
13% Funded
Only $1,750.00 Needed
Goal
to engage students in the design and engineering process and to develop creativity while creating hands on materials for learning
What will be done with my students
Students will plan, create, and use their designs for classroom lessons.
Benefits to my students
Students will experience the engineering process, become super excited about learning, and experience possible future career choices.
Budget Narrative
The $700 will be used for extra filament for the year, extruder, and building plates after shipping costs have been deducted.
Items
| # | Item | Cost |
| --- | --- | --- |
| 1 | markerbot 3D printer replicator mini | $1,300.00 |
| 2 | filament, extruder, building plates, and shipping | $700.00 |
| | Total: | $2,000.00 |
13% Funded
Only $1,750.00 Needed