FIND IT FUND IT FLORIDA
Our this year is to increase the use of technology within the classroom. Through this, I hope to help engage my student's learning through an interactive and personalize experience.
Building Literacy, one APP at a Time.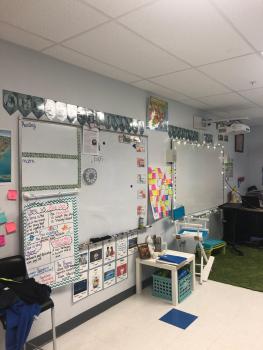 School:

Athenian Academy

Subject:

Language Arts

Teacher:

Jessica Smolen

Students Impacted:

40

Grade:

5

Date:

June 18, 2019
0% Funded
Only $630.00 Needed
Goal
Our this year is to increase the use of technology within the classroom. Through this, I hope to help engage my student's learning through an interactive and personalize experience.
What will be done with my students
Through the introduction of tablets into the classroom, my students will be able to implicate their use into a number of projects and activities on a daily basis.
In our classroom, we complete multiply research based projects through the year. Having the tablets could allow more students access to research information for their projects.
On a daily basis, we practice small group routines in that students work in small groups to complete a variety of tasks. By having the tablets available, groups can work on their daily skill assignments through a wide range of apps and/or sites that have specific skills in mind.
These tablet would also allow my students and I to try new ideas and features provided by google classroom to help enrich and manage their daily learning routines as well as add new ones to the mix. The tablets could be used in creating review games through Kahoot or allow students to create their own study material through quizlet. As a teacher, I can develop new ways of assessing students through the tablets features and access to better see the needs of my students.
Benefits to my students
Technology can greatly benefit student and teacher learning through a variety of activities. In my classroom, I encourage my students to be an active player in their education, meaning students are expected to work through a variety of means and take accountability for their products they produce. With the integration of tablets, students can continue to work on developing responsibility and accountability for their learning through a interactive and flexible ways.
Students would also benefit from the richness technology can bring to our lives. By using the tablets, students develop more skills to help them learn how to use these valuable tools in their daily lives. By exposing students that may not have had exposes to these items before, we can encourage student's technology fluency.
In this year, I will be departmentalize 5th grade teacher focused on ELA. On a daily basis, I will see 40 students. Having these tablets easily accessible will help me organize daily groups in a limited time frame to ensure each student is receiving practice on specific skills they need. I can do this through a varsity of apps, websites, and programs with individual students in mind. Not only will this help create a more well rounded ELA block, but help me to individual assess the needs of my students through assign different means of practice or activities through a technological approach. Programs such as flocabulay, spelling city, and prodigy can allow me to access were students are struggling and create action plans to help grow in their education.
Describe the Students
Our students range from high to low preforming on their assessments. Since I was part of the 4th grade team last year, I am familiar with our students needs. Last year, adding technology help bridge several gaps with our lower performing students. Our students are very activity and creative. Allowing students to explore topics that they take more of an interest in their learning will help engage and enrich their learning experiences . In a previous years, we have had several ELL students. With the addition to technology, we can help build student fluency and comprehended of new languages through interactive features that technology can provide.
Budget Narrative
This is based on June 18, 2019 amazon listing of the Amazon Fire tablets.
Items
| # | Item | Cost |
| --- | --- | --- |
| 1 | Fire HD 8 Tablet (8" HD Display, 16 GB) | $80.00 |
| 2 | Fire HD 8 Tablet (8" HD Display, 16 GB) | $80.00 |
| 3 | Fire HD 8 Tablet (8" HD Display, 16 GB) | $80.00 |
| 4 | Fire HD 8 Tablet (8" HD Display, 16 GB) | $80.00 |
| 5 | Fire HD 8 Tablet (8" HD Display, 16 GB) | $80.00 |
| 6 | Fire HD 8 Tablet (8" HD Display, 16 GB) | $80.00 |
| 7 | Kid proof case for Fire HD 9 Tablet | $30.00 |
| 8 | Kid proof case for Fire HD 9 Tablet | $30.00 |
| 9 | Kid proof case for Fire HD 9 Tablet | $30.00 |
| 10 | Kid proof case for Fire HD 9 Tablet | $30.00 |
| 11 | Kid proof case for Fire HD 9 Tablet | $30.00 |
| | Total: | $630.00 |
0% Funded
Only $630.00 Needed