FIND IT FUND IT FLORIDA
To provide students the opportunity to EXPERIENCE their post-secondary options.
Making College Connections: Ready, Set, ROAD TRIP: University of South Florida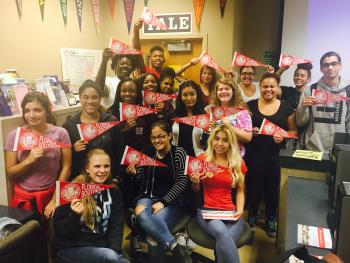 School:

Haines City HS/IB East

Subject:

Other

Teacher:

Monique Byrd

Students Impacted:

Grade:

9-12

Date:

September 29, 2016
0% Funded
Only $500.00 Needed
Goal
To provide students the opportunity to EXPERIENCE their post-secondary options.
What will be done with my students
Students will visit the college campus of surrounding institutions to explore and experience life as a college student. Specifically, students will attend a college admissions presentation, take a guided campus tour, fellowship with student ambassadors, & enjoy lunch on campus to complete their day.

Benefits to my students
To provide the opportunity for at risk youth to visit and experience post-secondary opportunities. In order for our at risk youth to truly tap into their potential we have to educate, empower, and encourage a college going culture in our school & community.

Budget Narrative
This budget includes travel and food expenses for 40-50 students. Each student will be able to travel comfortable and enjoy the on campus dinning experience. During the Fall and Spring Semester's I invite college recruiters to visit our students and speak about life after graduation (See attached photo from Florida Southern College Visit). However, in the past few years, many college admissions area recruiters are not able to visit our school due to institutional travel budget cuts. With funding, we will be able to allow students to explore life on a college campus and inspire them to seek post secondary education.
Items
| # | Item | Cost |
| --- | --- | --- |
| 1 | Bus/Motor Coach Rental/Charter | $400.00 |
| 2 | On Campus Dining | $100.00 |
| | Total: | $500.00 |
0% Funded
Only $500.00 Needed