FIND IT FUND IT FLORIDA
Design, calculate and construct soccer goals
World Cup Math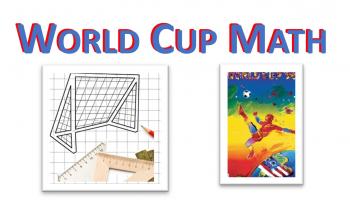 School:

Dune Lakes Elementary School

Subject:

STEM Education

Teacher:

Patrick Connor

Students Impacted:

40

Grade:

5

Date:

October 7, 2022

Deadline:

November 29, 2022
Investor
Thank you to the following investor for funding this grant.
The St. Joe Community Foundation - $990.00
Goal
Design, calculate and construct soccer goals
What will be done with my students
This is a 1-month project that coincides with our unit on measurement, conversions, shapes, angles, energy/forces and the 2022 FIFA World Cup. Students will design 2D scale models of their soccer goals on grid paper. Next, they will use plastic straws to create flexible scale models of their design. This step allows students to model the engineering and redesign process before working on the final project.

Different sizes of goalposts will be constructed for each age group at school. Then they will begin measuring and cutting parts. Pieces are cut to size, glued and assembled with angled PVC connectors. Finally, the goalposts can be carried to the fields outside for use. It's the perfect opportunity to learn about mathematics and other countries at the 2022 FIFA World Cup.

Benefits to my students
Students will explore several math and science standards including measurement, angles, volume, shapes, ratios, scaling and unit conversions. One of the main themes of this project is to explore how math and science can be challenging but exciting. Groups of students will collaborate on jobs such as scale drawing, measuring, cutting and assembling. Every student will be able to contribute regardless of prior knowledge or ability level. The finished goalposts can be used by all classes and grade levels, including custom sizes for younger age groups. Finally, we will implement an ELA, writing and social studies connection to the project as we explore the traditions of countries participating in the 2022 World Cup.

Hands-on activities contributed to a noticeable increase in engagement and mastery of several math standards. This was evidenced by growth on STAR Math tests and FSA performance. I will continue to monitor performance on the aligned standards to measure the impact of the project. I will also create a student and teacher survey after construction to evaluate which parts of the projects were successful and which need improvement.
Budget Narrative
Most of the budget includes consumable materials such as PVC pipe and PVC joints.
Teacher provides miscellaneous tools and drawing supplies

Items
| # | Item | Cost |
| --- | --- | --- |
| 1 | PVC pipe 3"diameter (10') x15 | $300.00 |
| 2 | PVC pipe 2"diameter (10') x15 | $200.00 |
| 3 | PVC elbow connectors (90°) | $130.00 |
| 4 | PVC T-connectors (2" and 3" sizes) | $140.00 |
| 5 | PVC adhesive | $10.00 |
| 6 | White playground sand (for mass) | $15.00 |
| 7 | Deer netting or sports netting (for net) | $100.00 |
| 8 | Grid paper for blueprint | $10.00 |
| 9 | plastic straws (bendy straws for models) | $5.00 |
| 10 | bulk shipping | $80.00 |
| | Total: | $990.00 |