FIND IT FUND IT FLORIDA
To successfully design, build, code, and maintain a FIRST robotics competition robot.
JABIL- Robotics Team Materials, Supplies, and Fees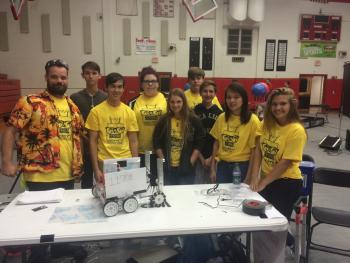 School:

Boca Ciega High School

Subject:

Stem

Teacher:

Jason Cook

Students Impacted:

25

Grade:

9-12

Date:

November 20, 2019
Investor
Thank you to the following investor for funding this grant.
Jabil - $999.00
Goal
To successfully design, build, code, and maintain a FIRST robotics competition robot.
What will be done with my students
Students participate in all aspects of the engineering of a robot to compete in FIRST robotics competitions against other Pinellas County High Schools.
Benefits to my students
Students on the Robotics team have a higher chance of choosing higher Math and Science classes. Involvement is crucial for under represented groups of students to have more opportunity to participate in STEM education. Students involved in FIRST are 2.6 times more likely to choose Engineering as a freshman in college. Over 75% of FIRST participants are in a STEM field as a student or a professional. They will gain important job skills including: communication, problem solving, time management, and conflict resolution.
Describe the Students
We are a Title 1 School with a large population of students with economic difficulties. Our team is a very diverse group representative of many underrepresented groups in the field of Engineering.
Budget Narrative
There are only a few constraints that we face in robotics: time, talent, and resources. These resources would allow our team to obtain necessary parts to assist with our build this season. This is our third year in FIRST robotics. Most of the grant opportunities are understandably for first year teams. We rely on grants (like this one) to supplement our fund raising efforts. We would love to add your company/organization to our list of sponsors and look forward to sharing our successes with you.
Items
| # | Item | Cost |
| --- | --- | --- |
| 1 | Control HUB | $300.00 |
| 2 | 75mm Mecanum Wheel Set | $90.00 |
| 3 | 15MM ULTRASLIDE - 308MM - 2 PACK | $28.00 |
| 4 | 15mm UltraSlide - 308mm - 2 Pack | $21.00 |
| 5 | 3x 22 Tooth Plastic Right Angle Rack Gear - 8 Pack | $24.00 |
| 6 | 4x 5.5mm Ratcheting Combination Wrench | $40.00 |
| 7 | 2x 10 Tooth Metal #25 Sprocket - 4 Pack | $12.00 |
| 8 | 5x 15MM EXTRUSION - 420MM - 90° ENDS - 4 PACK | $100.00 |
| 9 | M3 x 6mm Hex Cap Screws - 100 Pack | $7.00 |
| 10 | M3 x 10mm Hex Cap Screws - 100 Pack | $8.00 |
| 11 | M3 x 20mm Hex Cap Screws - 100 Pack | $10.00 |
| 12 | M3 x 25mm Hex Cap Screws - 100 Pack | $12.00 |
| 13 | ALUMINUM SERVO SHAFT ADAPTER | $5.00 |
| 14 | Expansion Hub | $175.00 |
| 15 | 2m Distance Sensor | $18.00 |
| 16 | Color Sensor V3 | $14.00 |
| 17 | Potentiometer | $10.00 |
| 18 | 2x Touch Sensor | $12.00 |
| 19 | 2x JST PH 4-pin Sensor Cable - 4 Pack | $10.00 |
| 20 | 2x 15mm Linear Motion Kit V2 | $24.00 |
| 21 | UltraPlanetary Gearbox Kit & HD Hex Motor | $36.00 |
| 22 | 3x UltraPlanetary Hardware Pack | $15.00 |
| 23 | HD Hex Motor | $28.00 |
| | Total: | $999.00 |