FIND IT FUND IT FLORIDA
To develop S.T.E.A.M. and coding skills with my first graders.
ROOTed in S.T.E.A.M.!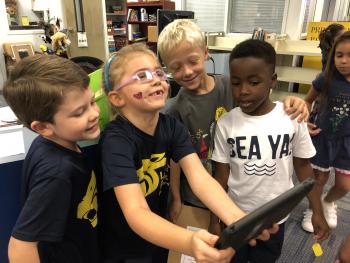 School:

Lake Park Elementary

Subject:

Stem

Teacher:

Joe Merrill

Students Impacted:

20

Grade:

1

Date:

September 8, 2018
Investor
Thank you to the following investor for funding this grant.
Harlan & Heather Dam - $199.00
Goal
To develop S.T.E.A.M. and coding skills with my first graders.
What will be done with my students
Root is a fun and easy-to-use educational robot that teaches coding, creativity and problem-solving skills to kids. We will use Root to enhance: design thinking, computational thinking, visual spatial navigation, creativity, analyzing patterns, logic / problem solving skills, counting techniques, debugging, and other forms of basic robotics.
Benefits to my students
Root fosters the development of 21st century S.T.E.A.M. skills and career readiness. There are three levels in the Root Coding App that will benefit accessibility and engagement for my first graders. The students will have the opportunity to problem-solve and develop any scenario they imagine.
Budget Narrative
Price includes the cost of one Root robot plus the cost of shipping.
Items
| # | Item | Cost |
| --- | --- | --- |
| 1 | Root Robot | $199.00 |
| | Total: | $199.00 |