My goal is to have a table top easel for all students who enter my Art Classroom. It frees up space and allows each artist a personal area to create works of art as well as following procedures for using tools, media, techniques, and processes safely and responsibly.(VA.4.S.3.3)
Ease-l-Up My Workspace in Art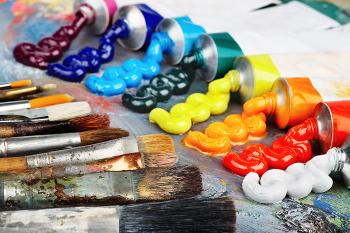 School:

Edgewater Public School

Subject:

Art

Teacher:

Heather Tareco-Anderson

Students Impacted:

515

Grade:

Pre K - 5

Date:

September 3, 2019
Investor
Thank you to the following investor for funding this grant.
William & Linda Cuthbert - $354.96
Goal
My goal is to have a table top easel for all students who enter my Art Classroom. It frees up space and allows each artist a personal area to create works of art as well as following procedures for using tools, media, techniques, and processes safely and responsibly.(VA.4.S.3.3)
What will be done with my students
Students will be given a personal space to create works of art whether sitting or standing. The easels will give each artist a space to work to allow their creative ideas to flow from their minds through their medium of choice. The easels will also give each child a chance to work without bumping into others works and give more flow to the art classroom. Taking responsibility in using the tools, properly cleaning them and returning them to their storage area also gives students a sense of pride in taking care of classroom tools and following procedures for using the tools.
Benefits to my students
Students will be able to create art on an easel versus a flat crowded table. They can choose whether they sit or stand at the easel. Each easel has a tray to hold the medium they will use in their work. Artists need space and freedom to create their best works of art.
Budget Narrative
Being new to the Art Classroom with only $500.00 dollars to spend for the entire year. My funds will be used to buy paper, paint, pastels, and materials needed to make each art project successful.
Items
| # | Item | Cost |
| --- | --- | --- |
| 1 | Tabletop Easel X 24 @ $14.79 each | $354.96 |
| | Total: | $354.96 |