To replace missing and damaged Woodwind Mouthpieces for Clarinet and Saxophone and help the Band sound and function at it fullest potential, while strengthening our core teaching offerings.
Help us put the Wood Back in our Woodwinds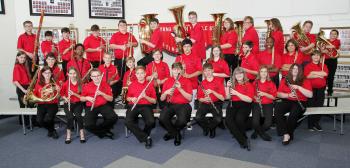 School:

New Smyrna Beach Middle School

Subject:

Music

Teacher:

Jonathan Brodie

Students Impacted:

200

Grade:

6-8

Date:

August 7, 2019
Investors
Thank you to the following investors for funding this grant.
FUTURES - $646.18
Anonymous - $284.82
Goal
To replace missing and damaged Woodwind Mouthpieces for Clarinet and Saxophone and help the Band sound and function at it fullest potential, while strengthening our core teaching offerings.
What will be done with my students
Teaching Woodwinds proper use and playing technique is essential to student success and enjoyment. It is impossible for students who cant afford instruments to learn when they don't have a mouthpiece to play with. The replacement of aging and missing equipment will help us to further develop our technical ability, and strengthen gaps in our standards when lack of sufficient equipment prevents us from performing to our fullest potential in our concerts. Currently we have 12 school owned clarinets 4 are missing mouthpices, and 2 have damaged mouthpeices that render them useless.
We perform in Multiple performances each year some of which include Winter Concert, Spring Concert, Florida bandmasters association Music Performance Assessment, parades just to name a few that support the school and community.
Our program has almost doubled in size over the last couple years with over 220 students in Music Classes this year. At this time we don't have enough equipment for each student to be able to play on their own instrument. Missing and dated parts and pieces to instruments from as old as 1970's need to be repaired and replaced to keep our students playing.
Standards:
MU.68.C.1.1 Develop strategies for listening to unfamiliar musical works.
MU.68.C.1.2 Compare, using correct music vocabulary, the aesthetic impact of a performance to one's own hypothesis of the composer's intent.
MU.68.C.1.3 Identify, aurally, instrumental styles and a variety of instrumental ensembles.
MU.68.C.2.1 Critique personal performance, experiment with a variety of solutions, and make appropriate adjustments with guidance from teachers and peers.
MU.68.C.2.2 Critique, using correct music vocabulary, changes in one's own or others' musical performance resulting from practice or rehearsal.
MU.68.F.3.1 Describe how studying music can enhance citizenship, leadership, and global thinking.
MU.68.H.1.1 Describe the functions of music from various cultures and time periods.
MU.68.H.1.3 Describe how American music has been influenced by other cultures.
MU.68.O.1.1 Compare performances of a musical work to identify artistic choices made by performers.
MU.68.O.3.1 Describe how the combination of instrumentation and expressive elements in a musical work can convey a specific thought, idea, mood, and/or image.
MU.68.O.3.2 Perform the expressive elements of a musical work indicated by the musical score and/or conductor, and transfer new knowledge and experiences to other musical works.
MU.68.S.3.6 Develop and demonstrate efficient rehearsal strategies to apply skills and techniques.
Benefits to my students
It cost thousands of dollars each year to maintain our equipment. At the time of writing this it has cost over $3,000 just to repair instruments this summer for the coming year. That doesn't include replacing mouthpieces that are missing or damaged for very old cases. Students who have proper equipment are more likely to have a proper sound and be proud of the music they produce. As a result my students are able to provide a better performance for the community of New Smyrna and Volusia County. This purchase would benefit not only our students this year but will last for many years to come and effect potentially thousands of students over there life.
Budget Narrative
Amazon:
Free Prime Shipping
4 Vandoren B45 Clarinet $83.57each
3 Vandoren AL4 Alto $114.57 each
2 Vandoren TL4 Tenor $124.95 each

Items
| # | Item | Cost |
| --- | --- | --- |
| 1 | 4 Vandoren B45 Clarinet Mouthpiece | $336.00 |
| 2 | 3 Vandoren AL4 Alto | $345.00 |
| 3 | 2 Vandoren TL4 Tenor | $250.00 |
| | Total: | $931.00 |