FIND IT FUND IT FLORIDA
This grant will increase student engagement, foster collaboration, and build interest in subject matter.
Escape Rooms - Transitioning from "Thinking Outside the Box to Breaking Into the Box"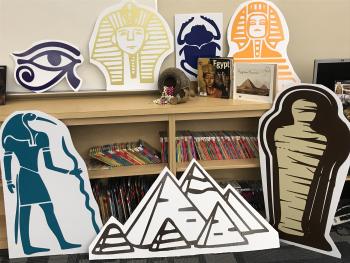 School:

Palmetto Ridge High

Subject:

Other

Teacher:

BOB Scallan

Students Impacted:

500

Grade:

9-12

Date:

July 22, 2020
0% Funded
Only $1,542.50 Needed
Goal
This grant will increase student engagement, foster collaboration, and build interest in subject matter.
What will be done with my students
Students will be immersed into challenging situations (escape rooms) where they will use content learned in class (in all subjects) to solve challenges and puzzles that will lead to a solution that allows them to "escape" the room. Students will be required to utilize both technology and critical thinking to be successful in the challenges.
Benefits to my students
The potential of escape rooms are undeniable. We frequently challenge students to "think outside the box" but now, I will challenge them to "break into the box" as they use content knowledge to solve challenges to open assorted locked boxes and other props. This grant request is a follow up to last year's exceedingly successful escape room grant. Students often stare at the clock in the room because they are disengaged, distracted, and waiting to leave. Last year, I saw students staring at the clock because they wanted more time to solve the challenges of the escape rooms. Funds from last year's escape room grant allowed me to create escape rooms that covered multiple topics in English II and III classes, the novels Great Gatsby and Of Mice and Men, and geometry. I even created an escape room for our Student Government Association mini conference that was attended by students from several schools. I was asked to create an escape room on Egypt by a middle school teacher as well as visit the Collier Charter Academy to host an escape room at one of their events. I was also asked to create an escape room for the Seminole Tribe of Florida's early learning centers. The success was far more than I expected. My intent was to create the rooms for the classes that I work with, but once the word got out, many of my colleagues asked me to create one for their content and class. It got to the point where I had to decline the request. This year, I am looking to assist as many teachers as possible with this unique method of teaching content. When I heard students say things like "Can we do this every day"?, "We (the class) have never spoken to each other this much", "This was so much fun", I knew I was on to something big. One of the most eye opening occurrences was seeing the non interested, never engaged students take a lead role in solving the challenges. That in itself was the most fulfilling aspect of these escape rooms.
In addition, the props that will be created with these funds are made with a vinyl cutter that was a funded by a Champions for Learning grant back in 2015. I'm still utilizing that equipment 5 years later.
Budget Narrative
Coraplast is a white sign board material used to make yard signs. I use it to create props that add to the scenery and helps develop the mood that is being created in the escape room. The vinyl is the material placed on the coraplast. See attached photo. The requested locks and boxes are also props used in the challenges.
Items
| # | Item | Cost |
| --- | --- | --- |
| 1 | 10 sheets of coraplast | $330.00 |
| 2 | 10 rolls of assorted color vinyl | $712.50 |
| 3 | assorted locks | $200.00 |
| 4 | assorted lock boxes | $300.00 |
| | Total: | $1,542.50 |
0% Funded
Only $1,542.50 Needed