FIND IT FUND IT FLORIDA
We hope to travel to the following tournaments this year, and need as much support as possible in fulfilling our transportation budget:

-SACFL 1: 9/8-9 @ Fleming Island, Jacksonville
-SACFL 2/Wildcat Classic: 9/23 @ Valdosta, Ga
-Blue Key: 10/27-29 @ UF
-SACFL 3: 11/4 @ Duval Charter, Jacksonville
-SACFL 4/Raider Regal: 12/2 @ SFHS
-Sunvitational: 1/12-14 @ Ft. Lauderdale
-SACFL 5: 1/20 @ PK Yonge
-Barkley Forum: 1/26-28 @ Emory University, Ga
-Cal Invitational: 2/17-19ish @ Berkley, Ca
-SACFL District Qualifier: TBD in February

-FFL District Tournament: 2/3 @ TBD but almost certainly Orlando
-FFL Varsity State Championship (for top 6 from district tournament): 3/3-4 @ Winter Garden, FL
-FFL Novice State: 4/14-15 @ Weston, Fl

-NCFL Grand Nationals: 5/25-28 @ Arlington, Va
Raider Debaters: Up, Up, and Away!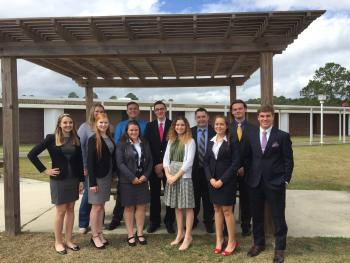 School:

Santa Fe High School

Subject:

Other

Teacher:

Chris Salamone

Students Impacted:

30

Grade:

9-12

Date:

August 10, 2017
0% Funded
Only $1,500.00 Needed
Goal
We hope to travel to the following tournaments this year, and need as much support as possible in fulfilling our transportation budget:

-SACFL 1: 9/8-9 @ Fleming Island, Jacksonville
-SACFL 2/Wildcat Classic: 9/23 @ Valdosta, Ga
-Blue Key: 10/27-29 @ UF
-SACFL 3: 11/4 @ Duval Charter, Jacksonville
-SACFL 4/Raider Regal: 12/2 @ SFHS
-Sunvitational: 1/12-14 @ Ft. Lauderdale
-SACFL 5: 1/20 @ PK Yonge
-Barkley Forum: 1/26-28 @ Emory University, Ga
-Cal Invitational: 2/17-19ish @ Berkley, Ca
-SACFL District Qualifier: TBD in February

-FFL District Tournament: 2/3 @ TBD but almost certainly Orlando
-FFL Varsity State Championship (for top 6 from district tournament): 3/3-4 @ Winter Garden, FL
-FFL Novice State: 4/14-15 @ Weston, Fl

-NCFL Grand Nationals: 5/25-28 @ Arlington, Va
What will be done with my students
Students will travel by bus, plane, and automobile to various debate venues throughout Florida and the country. This fundraiser will help to begin the fundraising process for our annual campaign to promote debate in public education.
Benefits to my students
Students can engage in meaningful dialogue and discourse in the pursuit of self improvement, greater understanding of complex issues, public speaking skills, organization, and compassion.
Budget Narrative
Budget includes the cost of rental vans and gasoline for the majority of our local tournaments. Thank you for supporting our students!
Items
| # | Item | Cost |
| --- | --- | --- |
| 1 | Transportation Budget | $1,500.00 |
| | Total: | $1,500.00 |
0% Funded
Only $1,500.00 Needed