FIND IT FUND IT FLORIDA
As an International Baccalaureate Middle School we want to develop our students into global citizens.
Celebration Of Life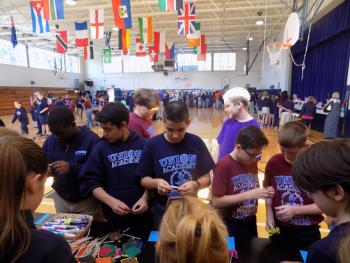 School:

Union Academy

Subject:

Art

Teacher:

Beverly Williams

Sonia Stecker, Nyleen Rodriguez, Libia Aldana, Kent Kesler, John VanClief, Bryant Joyner

Students Impacted:

Grade:

6-8

Date:

September 30, 2016
0% Funded
Only $496.89 Needed
Goal
As an International Baccalaureate Middle School we want to develop our students into global citizens.
What will be done with my students
This unit began with the bases of Day of the Dead from the Mexican culture and how they celebrated the lives of love ones that had passed on. Wanting to increase global awareness students will be studying the customs of other cultures and how they celebrate and honor those who have passed on. We looked at our school population and identified the different cultures of our students. We found that we have Mexican, Indian (Asia), European, American and African students and we will be highlighting these cultures. Teachers will select one of the countries of study, next they will have their students research that country's customs and traditions on how they celebrate their ancestors. Finally the students will create projects that will showcase its traditions. The culminating activity will be a festival held in the gym. Students will create booths, and decorate them using traditional artwork, costumes (if possible) and digital posters. The entire school population will attend the festival; some booths will have interactive activities and some of the booths will be informational. Teachers from the following disciplines will be collaborating together - Spanish departments as well as the fine arts, robotics, physical education and health, individuals and societies (social studies) and language arts
Benefits to my students
Our aim is to develop inquiring, knowledgeable and caring young people who help to create a better and more peaceful world through intercultural understanding and respect. Through this unit of study we want to encourage our students to become active, compassionate and lifelong learners who understand that other people, with their differences, can also be right. All 400 students will participate and benefit from this project. Each year more and more of our faculty join in with this project. Our goal is to have all teachers participating in this project next year.
Budget Narrative
Printing ink and photo paper will be used to create informational posters by the students to display around school and in their booths.
Paint and construction paper will be used to create and embellish their projects used in the different participating classes.
The fabric will be used to create India Batiks to use as backdrops and as costumes.
Styrofoam and plaster cloth will be used for students to create personal shrines of love ones in their family that has passed on.
Items
| # | Item | Cost |
| --- | --- | --- |
| 1 | 2 -Staples - HP 920XL/920 High Yield Black and Standard C/M/Y Color Ink Cartridges (N9H61FN#140), Combo - 2/Pack | $127.98 |
| 2 | 1- Staples Photo Supreme Paper, 13" x 19" Matte, 20/Pack (19896-CC) | $27.99 |
| 3 | 1- Walmart - Sax True Flow Medium-Bodied Acrylic Paint, .5-Gallon, Set of 6 | $85.33 |
| 4 | 4-Walmart - Pacon Riverside Construction Paper, 18 x 24, 50 Sheets/Pack | $27.52 |
| 5 | 4- Walmart - Pacon Multicultural Construction Paper, 12 x 18, Assorted, 50 Sheets/Pack | $17.56 |
| 6 | 1 - Muslin 44/45" Wide Cotton, 92x76ct, 15 yd, Unbleached/Natural | $57.07 |
| 7 | Michaels – 26 blocks - FloraCraft® Styrofoam® Block, White 18 x12x 1 | $127.14 |
| 8 | Blick Plaster Cloth 4" × 5 yd – 4 rolls | $26.30 |
| | Total: | $496.89 |
0% Funded
Only $496.89 Needed